Industry-Leading Technology
We customize our technology solutions to align perfectly with your specific needs. Let TFL take responsibility for a wide range of tasks, from website development to comprehensive customer service management while fitting all your preferences. Our flexible choices empower you to maintain control over as much of the process as you'd like, while ensuring access to our extensive and robust ticket inventory.
Private Label
Websites
We provide you with the website, over $5 billion in extensive ticket inventory and superior customer experience. You get to embrace and enhance your new branding.
API
Integration
TFL offers the flexibility of constructing a ticketing website tailored to your needs, or seamlessly integrating our ticket inventory into your pre-existing website. The choice is yours, ensuring a solution that best aligns with your preferences.
ATBS Broker
Services
Through our user-friendly reporting dashboards, you will gain comprehensive insights into various aspects of your business, including transactions, website traffic, search behavior and more. These analytics will provide you with a clear view to make informed decisions about your business.
Your Brand, Our Technology
Discover a powerful partnership that leverages the best aspects of your brand with our cutting-edge technology. With TFL, you retain control over your brand identity, while we handle the technical aspects.
It's about more than just technology; it's a dynamic collaboration where you get the branding, and we provide the solutions. Together, we unlock the full potential of your brand's events and experiences.
Schedule a Demo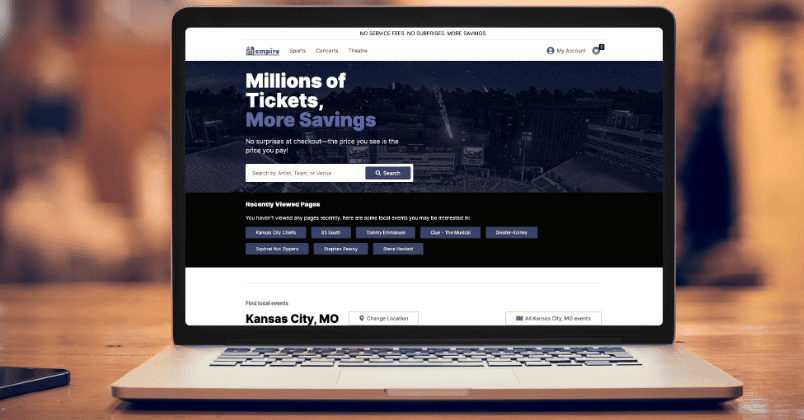 Search Catalogs
Search
Effortlessly look for specific events by using detailed and specific criteria.
Quick Search
Efficiently search for events by narrowing down your criteria based on market, venue, city, state/province, headliner, event date or date range.
Advanced Search
You have the flexibility to search for events using all the criteria in the quick search with the addition of category segmentation, allowing you to use any combination that best suits your needs.
API Integration Benefits
Your Customer
Create a smooth user experience, boost engagement and enhance customer satisfaction with a user-friendly ticketing option.
Your Brand
Better maintain a strong brand identity across all digital touchpoints by aligning your needs for a unique and personal customer journey.
Our Technology
Better maintain a strong brand identity across all digital touchpoints by aligning your needs for a unique and personal customer journey.
More Than A Technology
Company
We believe that understanding consumers and how they buy helps us to better understand the market.
At TFL, we manage inventory as a direct team distribution partner and a marketplace, which means we have access to inventory from other major marketplaces combined with direct inventory from teams and venues.
Our unique market position puts us closer to the inventory source than anyone.
Frequently Asked Questions
What are the prices for your products?
Our integration packages start at $4,500 setup cost depending on the specific build and the monthly fee starts at $395 for new customers. This monthly price scales with transactional volume and covers the cost of the software licensing, hosting, customer service, and technical support.
What payment options do customers have when buying tickets?
API integrations will depend on you own options. The Private Label websites support all major credit/debit card brands as well as PayPal, PayPal Credit, ApplePay, Google Pay, and Venmo.